BUCHAREST (BUCURESTI)

Bucharest General Information
Location: Southern Romania
Size: City of Bucharest - 88 sq.miles (228 sq.km); Bucharest Metropolitan area - 587 sq.m(1,521 sq.km)
Elevation: 190-295 ft (55-90 m)
Population: 2.6 milion (2007)
Inhabited since: 500 BC
First documented: 1459 AD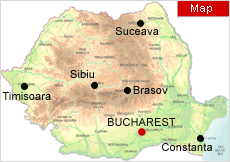 City Highlights
Known for its wide, tree-lined boulevards, glorious Belle Époque buildings and a reputation for the high life (which in the 1900s earned its nickname of "Little Paris"), Bucharest, Romania's largest city and capital, is today a bustling metropolis.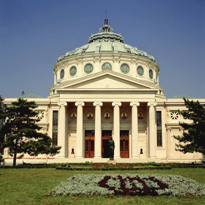 Romanian legend has it that the city of Bucharest was founded on the banks of the Dambovita River by a shepherd named Bucur, whose name literarily means "joy." His flute playing reportedly dazzled the people and his hearty wine from nearby vineyards endeared him to the local traders, who gave his name to the place.
In the 15th century, the princely court of Vlad Tepes (thought to have been the inspiration for Bram Stoker's Dracula) was established here and by the end of the 17th century, the city had become the capital of the province of Walachia. In 1862, Bucharest became the capital of Romania.
Remodeled in the late 19th century by French and French-trained architects, the city features large neoclassical buildings, fashionable parks, and even its very own Arc de Triomphe on the elegant Soseaua Kiseleff, an avenue longer than the famed Champs-Elysees and home to the city's mansion district.
Bucharest is laden with historical charm - from the streets of the Old City Centre, which are slowly being restored, to the grand architecture of the Royal Palace and the lush green of Cismigiu Park. The city also claims a large number of museums, art galleries, exquisite Orthodox churches and unique architectural sites.
Nicolae Ceausescu's legacy, including the Parliament Palace (formerly called the People's Palace), which at 3.76 million square feet stands as the world's second largest building after the U.S. Pentagon, provides an interesting introduction to the dictator's megalomaniac vision.
Bucharest's buzzing cultural scene - 37 museums, 22 theatres, concert halls, opera house, 18 art galleries, jazz clubs and hip nightclubs - will certainly keep you busy. Every two years, Bucharest is host to the George Enescu International Festival, a prestigious cultural event named after the famous Romanian musician and composer. Renowned orchestras, conductors and soloists perform at the Romanian Athenaeum, a hall with acoustics comparable to Milan's La Scala.

City Landmarks

House of the Free Press (Casa Presei Libere)
Address: Piata Presei Libere 1 (map)
An impressive edifice standing somewhat menacingly at the entrance to the capital, Casa Scanteii (as it is still universally known) was designed by architect Horia Maicu and completed in 1956, one year after the strikingly similar Palace of Science and Culture in Warsaw, Poland. Originally housing almost all of the capital's printing presses and newsrooms, it, today, carries out much the same function, with the addition of the Bucharest Stock Exchange in the southern wing.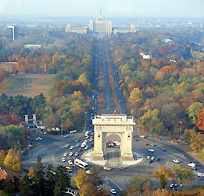 The Arch of Triumph (Arcul de Triumf)
Address: Piata Arcul de Triumf (map)
Initially built of wood in 1922 to honor the bravery of Romanian soldiers who fought in World War I, Bucharest's very own Arc de Triomphe was finished in Deva granite in 1936. Designed by the architect, Petre Antonescu, the Arc stands 85 feet high. An interior staircase allows visitors to climb to the top for a panoramic view of the city. The sculptures decorating the structure were created by leading Romanian artists, including Ion Jalea, Constantin Medrea and Constantin Baraschi.
Calea Victoriei (Victory Avenue)
Calea Victoriei is Bucharest's oldest and arguably, most charming street. Built in 1692 to link the Old Princely Court to Mogosoaia Palace, it was initially paved with oak beams. The street became Calea Victoriei in 1878, after the Romanian War of Independence victory. Between the two world wars, Calea Victoriei developed into one of the most fashionable streets in the city.
Stroll along this street from Piata Victoriei to Piata Natiunilor Unite to discover some of the most stunning buildings in the city, including the Cantacuzino Palace, the historical Revolution Square, the Military Club, the CEC Headquarters and the National History Museum.
Cantacuzino Palace (Palatul Cantacuzino)
Address: Calea Victoriei 141
Admission charge
Grigore Cantacuzino was thought to be one of Romania's wealthiest citizens in 1899. As Prime Minister, it was his wish to have the most elegant residence in Bucharest. Using the designs of architect Ion Berindei, the Cantacuzino Palace was built between 1898 and 1900 in eclectic French style. Combining a neoclassical architectural style with art nouveau elements, it features wrought iron balconies, tall arched windows and a porte-cochere (an elegant wrought-iron doorway) flanked by two lions. Today, the palace houses the George Enescu Museum.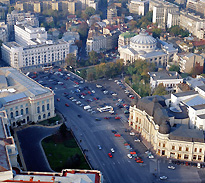 Revolution Square (Piata Revolutiei)
The square gained worldwide notoriety when TV stations around the globe broadcasted Nicolae Ceausescu's final moments in power on December 21, 1989. It was here, at the balcony of the former Communist Party Headquarters, that Ceausescu stared in disbelief as the people gathered in the square below turned on him. He fled the angry crowd in his white helicopter, only to be captured outside of the city a few hours later.
The square's importance stretches back long before the dramatic events of the 1989 Revolution. On the far side of the square stands the former Royal Palace, now home to the National Art Museum, the stunning Romanian Athenaeum and the historic Athenee Palace Hotel. At the south end of the square, you can visit the small, but beautiful, Kretzulescu Church.
The Royal Palace (Palatul Regal)
Address: Calea Victoriei 49-53 (map)
Erected between 1927 and 1937 in neoclassical style, the palace was home to King Carol II and to his son, King Mihai I, until 1947, when the monarchy was abolished in Romania. It was inside the halls of this palace that King Mihai, aged 18, led a coup that displaced the pro-Nazi government during the World War II and put Romania on the Allies' side. Today, the former Royal palace houses the Romanian National Art Museum.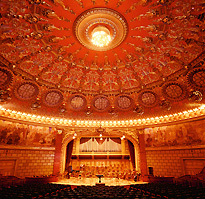 The Romanian Athenaeum
(Ateneul Roman)
Address: Str. Benjamin Franklin 1 (map)
Tel: (021) 315.00.26 or 315.25.67
Web: http://fge.org.ro/filarmonica-george-enescu/
The work of French architect Albert Galleron, who also designed the National Bank of Romania, the Athenaeum was completed in 1888, financed almost entirely with money donated by the general public. One of the preeminent public fundraising campaigns ever in Romania, the "Give a penny for the Athenaeum" campaign saved the project after the original patrons ran out of funds. With its high dome and Doric columns, the Athenaeum resembles an ancient temple.
The lobby has a beautifully painted ceiling decorated in gold leaf, while curved balconies cascade in ringlets off a spiral staircase. A ring of pink marble columns is linked by flowing arches where elaborate brass lanterns hang like gems from a necklace. Inside the concert hall, voluptuous frescoes cover the ceiling and walls. Renowned worldwide for its outstanding acoustics, it is Bucharest's most prestigious concert hall and home of the Romanian George Enescu Philharmonic.

Athenee Palace Hotel
Address: Str. Episcopiei 1-3 (map)
Built in 1914 by French architect Teophile Bradeau, the Athenee Palace (currently a posh Hilton hotel) was made famous in Olivia Manning's novel, Balkan Trilogy, as a centre of intrigue and espionage during World War II. British and German diplomats plotted, schemed and spied on each other in the epoch atmosphere of the hotel's English Bar, while a host of rich and famous gathered and intrigued as their society collapsed around them. The hotel suffered heavy bombing during the war and consequently, was rebuilt in 1945.
Kretzulescu Church
Address: Calea Victoriei 47 (map)
Nestled amid the other historical buildings in Piata Revolutiei, this small red-brick Orthodox church was built in 1722 by the great chancellor Iordache Kretzulescu and his wife, Safta (a daughter of Constantin Brancoveanu) in the Brancovenesti architectural style. The interior frescoes were executed around 1860 by the famous Romanian painter Gheorghe Tattarescu.

Royal Palace Great Concert Hall (Sala Palatului)
(map)
Located next to the Royal Palace, the concave-roof structure was built in 1960 to accommodate the 3,000 Communist party members who every five years attended the communist party congress. It was on this stage that Nicolae Ceausescu would deliver his vision of a multilaterally developed socialist society. Today, the massive auditorium plays host to various conferences and events, including some of the George Enescu International Festival concerts.
The Military Club (Cercul Militar National)
Address: Blvd. Regina Elisabeta 21 (map)
Tel: (021) 313.86.80
Standing guard imposingly, this neoclassical masterpiece, designed by Romanian architect Dimitrie Maimaroiu, was built in 1912 to serve the social, cultural and educational needs of the Romanian army. Banquets and official events are still hosted in the ballrooms, while the upstairs area is reserved for the army's library, as well as offices and classrooms for officer instruction. The main part of the building is off-limits to civilians, but the sumptuous restaurant and summer terrace is open to the public.
The Palace of the Savings Bank (Casa de Economii si Consemnatiuni / CEC)
Address: Calea Victoriei 11-13 (map)
Boasting one of the most impressive neoclassical facades in the city, this structure was built in the 19th century to the design of French architect Paul Gottereanu (who between 1875 and 1900 designed more than 50 buildings in the city, to house the first Romanian Savings Bank. The square-shaped palace has a large central dome with metallic ribs separated by glass, which allows natural light to come in; there are also four smaller domes. The arch at the entrance, with its Corinthian columns, is a highlight of any architectural tour of the city.

Old Historical Center of Bucharest (Centrul Vechi al Orasului)
Lipscani District
Perhaps the city's unique charm can be best observed in the area known as Lipscani, which consists of a jumble of streets between Calea Victoriei, Blvd. Bratianu, Blvd. Regina Elisabeta and the Dambovita River. A once-glamorous residential area, the old city centre is now slowly being refashioned into an upscale neighborhood.
At the beginning of 1400s, most merchants and craftsmen - Romanian, Austrian, Greek, Bulgarian, Serbian, Armenian and Jewish - established their stores and shops in this section of the city. Soon, the area became known as Lipscani, named for the many German traders from Lipsca or Leiptzig. Other streets took on the names of various old craft communities and guilds, such as Blanari (furriers), Covaci (blacksmiths), Gabroveni (knife makers) and Cavafii Vechii (shoe-makers). The mix of nationalities and cultures is reflected in the mishmash of architectural styles, from baroque to neoclassical to art nouveau.
Today, the area is home to many art galleries, antique shops and coffeehouses. On a beautiful day, you can stroll down the narrow cobblestone streets and imagine the shopkeepers outside near their stores, encouraging people to buy their merchandise and negotiating prices with them. Don't forget to stop by Hanul cu Tei, which is a rectangular courtyard between Strada Lipscani and Strada Blanari, home to an array of art and antiques shops.
Old Princely Court & Church (Palatul si Biserica Curtea Veche)
Address: Strada Franceza 25-31 (map)
Tel: (021) 314.03.75
Museum open: Mon. – Sun 10:00 a.m. – 5:00 p.m.;
Admission charge
At the centre of the historic area are the remains of the Old Princely Court (Curtea Veche), built in the 15th century by Vlad Tepes, also known as Vlad Dracula. According to local lore, Vlad kept his prisoners in dungeons which commenced beneath the Princely Court and extended under the city. All that remains today are a few walls, arches, tombstones and a Corinthian column.
The Old Court Museum was established in 1972 when an archaeological dig revealed the remains of the fortress, along with Dacian pottery and Roman coins, evidence of Bucharest's earliest inhabitants. The oldest document attesting to the city's origin under the name of Bucuresti (Bucharest) was discovered here. It was issued on September 20, 1459 and signed by Prince Vlad Tepes.
Next to the palace stands the Old Court Church (Biserica Curtea Veche), dating from 1559 and considered the oldest in Bucharest. For two centuries, the church served as coronation ground for Romanian princes. Some of the original 16th century frescoes have been preserved.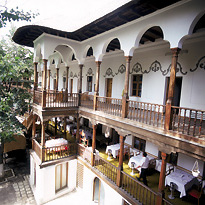 Manuc's Inn (Hanul lui Manuc)
Address: Str. Franceza 62-64 (map)
Tel: (021) 313.14.11
Built between 1804 and 1808 by the wealthy Armenian trader Emanuel Marzaian (called by the Turks, Manuc Bey), the inn was witness in 1812 to the preliminary talks of the Peace Treaty that put an end to the Russian -Turkish War (1806-1812). A favorite meeting and resting place for tradesmen in those times, Manuc's Inn has preserved to this day its old style and flavor. It now serves as a hotel with a restaurant, a wine cellar and a pastry shop.
The Beer Cart Restaurant (Carul cu Bere)
Strada Stavropoleos 3-5 (map)
Tel: (021) 313.75.60
Opened in 1879, this famous restaurant and beer house soon became one of the most popular meeting places for Bucharest's literati who would gather to discuss matters of their time. Its neo-gothic architectural style is reflected both in the façades and the interior decorations: columns, arches, chandeliers, a wooden staircase, furniture and murals on the walls and ceiling.
National Bank of Romania (Banca Nationala a Romaniei)
Address: Str. Lipscani 25 (map)
The National Bank of Romania (BNR) stands on the site of one of the most famous buildings in Romania: the Hanul Serban Voda, which from 1678 until 1883 was the home of various institutions ranging from a pub to an inn to a girl's dormitory! After two fires gutted the building, however, the land was leveled and in 1883, work began on the BNR, completed to the designs of French architects Cassien Bernard and Albert Galleron in 1885. Built in neoclassical French style, the building boasts a facade with Corinthian columns and an enormous central banking hall. The passing of time has left its marks on the building, but it remains a classic worthy of admiration.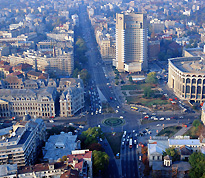 University Square (Piata Universitatii) (map)
Buzzing with crowds and traffic from early morning until late at night, this area is one of the most popular meeting places in Bucharest. The square brings together some remarkable architectural masterpieces on each of its four corners, starting with the University of Bucharest's School of Architecture, the Bucharest National Theatre, the neoclassical Coltea Hospital and its lovely church (1702-1794) and the Sutu Palace, now home to the Bucharest History Museum.
In the middle of the square, on a little island, 10 stone crosses pay respect to those killed during the 1989 revolution. Below the square is an underground passage with shops and eateries, allowing pedestrians to cross from one side of the square to another and to access the subway station.
University of Bucharest (Universitatea Bucuresti)
Address: Blvd. Regina Elizabeta (near University Square) (map)
Bucharest remains first and foremost a hub of higher education. The University of Bucharest was founded in 1864 by Alexandru Ioan Cuza, ruler of the newly united principalities of Walachia and Moldova. Work on the neoclassical building began in 1857 and finished in 1859.
Between the two World Wars, the libraries and corridors of the University hosted an impressive number of Romanian personalities, including Mircea Eliade, Emil Cioran, Eugène Ionesco, Sergiu Celibidache.
Year-round, you can find book merchants near the University building selling anything from antique books, records, discontinued newspapers and illustrated broadsheets from another age to secondhand books.

Coltea Hospital (Spitalul Coltea)
Address: Blvd. I.C. Bratianu 1 (map)
The oldest hospital in Bucharest, dating from 1704, Coltea was built on land belonging to the Vacaresti family, who at the time owned many of the great prosperities of the capital. The original building was destroyed by an earthquake in 1802, and the neoclassical building standing today dates from 1888. The church next to the hospital is the original 1701 construction, and is currently undergoing much-needed renovation. The hospital remains a functioning public health centre; you may enter only if you have official business. The church, however, is open to all, and the saintly silhouettes on the ceiling are admirable.
Sutu Palace (Palatul Sutu)
Address: Blvd I.C. Bratianu 2 (near University Square) (map)
Famous for the grandiose balls held here in the 1900s, Sutu Palace was built in neogothic style between 1832 and 1834 by foreign minister Costache Sutu, to designs of architects Johann Veit and Konrad Schwinck. In 1862, the palace was redecorated by sculptor Karl Storck, who created three arcades and a monumental stairway; a huge Murano mirror was added in the hallway. Only the painted ceilings, the stucco, the parquet flooring and the tile stoves have been preserved.
Since 1959, the building has housed the Bucharest History & Art Museum
Communist legacy

Parliament Palace (Palatul Parlamentului)
Address: Calea 13 Septembrie 1, Intrarea A3 (map)
Tel: (021) 311.36.11
Hours: Mon. - Sun. 10:00am - 4:00pm
Admission charge (English guided tour available)
Built by Communist Party leader, Nicolae Ceausescu, the colossal Parliament Palace (formerly known as the People's Palace) is the second largest administrative building in the world after the Pentagon. It took 20,000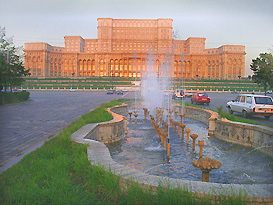 workers and 700 architects to build. The palace boasts 12 stories, 1,100 rooms, a 328-ft-long lobby and four underground levels, including an enormous nuclear bunker.

When construction started in 1984, the dictator intended it to be the headquarters of his government. Today, it houses Romania's Parliament and serves as an international conference centre. Built and furnished exclusively with Romanian materials, the building reflects the work of the country's best artisans. A guided tour takes visitors through a small section of dazzling rooms, huge halls and quarters used by the Senate (when not in session). The interior is a luxurious display of crystal chandeliers, mosaics, oak paneling, marble, gold leaf, stained-glass windows and floors covered in rich carpets.
Interesting facts:
-It is the world's second-largest office building in surface (after the Pentagon) and the third largest in volume (after Cape Canaveral in the U.S. and the Great Pyramid in Egypt)
- The crystal chandelier in the Human Rights Hall (Sala Drepturilor Omului) weighs 2.5 tons
- Some of the chandeliers have as many as 7,000 light bulbs
Civic Centre (Centrul Civic)
Ceausescu's building megalomania climaxed with the construction of the Civic Centre, an area located at the south end of the Palace of Parliament along Bulevardul Unirii. Bucharest had taken significant damage from the Allied bombing during World War II and the earthquake of March 4, 1977. However, neither of these events changed the face of the city as much as the redevelopment schemes of the 1980s, when eight square kilometres in the Old Historical Centre of Bucharest were leveled, including monasteries, churches, synagogues, a hospital and a noted Art Deco sports stadium. Some 40,000 people were evicted with only a single day's notice to make room for the construction of these Stalinist apartment buildings topped with neoclassical follies.
Historic Churches
Apostles' Church (Biserica Sfintii Apostoli)
Address: Str. Sfintii Apostoli 1 (map)
Tel: (021) 336.07.84
One of the oldest churches in Bucharest (with parts dating back to the 16th century and a steeple built in 1715), the Apostles' Church is brimming with some rather strange portraits that are well worth seeing.
Metropolitan Church (Biserica Patriarhiei)
Address: Aleea Dealul Mitropoliei (map)
Set atop one of the city's few hills, known as Mitropoliei, the Metropolitan Church has been the centerpiece of the Romanian Orthodox faith since the 17th century. The church was built by Constantin Serban Basarab, ruler of the province of Walachia between 1656 and 1658, to a design inspired by the Curtea de Arges monastery.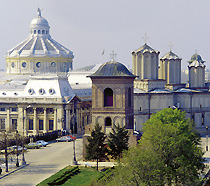 It became the Metropolitan Church in 1668 and the seat of the Romanian Orthodox Church in 1925.
The Byzantine interior, containing the most dazzling of the city's iconostasis, as well as a couple of exquisitely carved side altars, bestows great beauty on the services presided over by the Romanian Patriarch. A huge crowd gathers here for the Easter midnight service.
The outstanding bell-tower at the entrance was built in 1698 and restored in 1958. Next to the church, and closed to the public, is the Patriarchal Palace (1708), residence of the Teoctist, supreme leader of the Romanian Orthodox Church.
Stavropoleos Church (Biserica Stavropoleos)
Address: Str. Stavropoleos 4 (map)
Tel: (021) 313.47.47
The Stavropoleos Church was built in 1724 by the Greek monk Ioanikie Stratonikeas. Featuring a combination of Romanian and Byzantine architecture, it has a beautiful façade and a delicately carved columned entrance. Surrounded by a peaceful garden, it is an architectural jewel, with beautiful frescoes and wood-painted icons. The mass (in Romanian) is worth viewing if you can find room in this small and cozy church.
St. Joseph's Cathedral (Catedrala Sfantul Iosif)
Address: Str. G-ral Berthelot 19 (map)
Tel: (021) 312.12.08
Constructed in red brick between 1873 and 1884, this Roman Catholic cathedral is an architectural masterpiece combining both gothic and Roman elements. Organ recitals are held every week.
St. Nicolas Church (Biserica Sfantul Nicolae)
Address: Str. Ion Ghica 9 (map)
Tel: (021) 314.64.50
Built in 1909 by the Russian Tsar Nicholas II for 600,000 gold rubles, this Orthodox Church has a wooden, gold-gilded iconostasis allegedly modeled after the altar in the Archangelskiy Cathedral in Moscow.
Jewish Bucharest
Bucharest is home to one of the oldest and most important Jewish communities in Romania. Sephardic Jews arrived here in the 16th century. Around the beginning of the 17th century, during the Cossack uprising, the first Ashkenazi Jews came from Ukraine and Poland. A sacred brotherhood, a charity box and a prayer house were registered in 1715. Some of the synagogues built during the 18th and 19th century also featured ritual baths (mikve). By 1832, 10 holy houses had been established. Their number would increase significantly before the end of the century, almost every one having its own Rabbi and cult performers. At the beginning of the 20th century, the Jewish population in Bucharest numbered 40,000 people with 70 temples and synagogues. From this great number, only a few survived the brutality of history - fascism and communism - and two still serve the city's present Jewish community.
Dr. Moses Rosen Museum of the History of the Jewish Community
in Romania
(Muzeul de Istorie al Evreilor din Romania)
Address: Str. Mamulari 3
Tel: (021) 311.08.70
Web: www.romanianjewish.org
Open: Mon. - Wed. & Fri. - Sun. 9:00am - 1:00pm; Thu. 9:00am - 4:00pm
Free Admission
Housed in the magnificently preserved Great Synagogue (1850) in the city's historically Jewish neighborhood, this museum traces the history of Romania's Jewish population. The displays include a collection of books written, published, illustrated or translated by Romanian Jews; a small collection of paintings of and by Romanian Jews (many of the same artists' works hang in the National Museum of Art) and memorabilia from Jewish theatres including the State Jewish Theatre. The museum also contains a large collection of Jewish ritual objects from Romania, collected by Rabbi Moses Rosen (1912-1994), the late Chief Rabbi of the Romanian Jewry.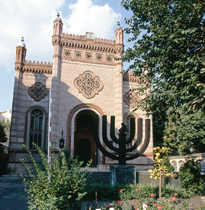 Choral Temple (Templul Coral)
Address: Str. Sfanta Vineri 9 (map)
Tel: (021) 312.21.96
Built in 1857, the red brick temple (noted for its magnificent Moorish turrets, choir loft and organ) is the largest active synagogue in Bucharest. Services are held every day at 8am and 7pm. On Saturday, they are held at 8:30am and 7pm.
Yeshoah Tova Synagogue
Address: Str. Tache Ionescu 9 (map)
In a busy side street going towards Piata Amzei from Magheru Bulevard stands the only other functioning synagogue in the city apart from the Choral Temple. Services take place at Sabbath hour on Friday and Saturday evenings.
Bucharest Jewish Community (Comunitatea Evreilor din Bucuresti)
Address: Str. Sf. Vineri 9 -11
Tel: (021) 313.17.82
Art Collections Museum (Muzeul Colectiilor de Arta)
Address: Calea Victoriei 111
Tel: (021) 212.96.41
Web: www.mnar.arts.ro/muzsatelit/EN_muzcolectiilor.php
Note: The museum is closed for renovations until the end of 2010.
Admission charge
Founded in 1978, the Art Collections Museum, a branch of the National Art Museum, houses private collections donated over the course of time. Collections include European as well as Oriental art works.
Bucharest History & Art Museum (Muzeul Municipiului Bucuresti)
Address: Blvd. I.C.Bratianu 2
Tel: (021) 315.68.58
Web: www.muzeulbucurestiului.ro/main.html
Open: Wed. - Sun. 10:00 a.m. - 6:00 p.m.; Closed Mon. & Tue.
Admission charge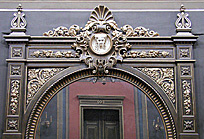 Housed in the neoclassical Sutu Palace (1834), the museum features some 300,000 artifacts, from coins, books, maps, engravings, paintings, arms and furniture to old traditional costumes. Among the most valuable exhibits are the document attesting for the first time the name of the city of Bucharest, issued by Vlad Tepes in 1459, and a sword set in precious stones that belonged to Prince Constantin Brancoveanu (1688-1714).
Communist Iconography Museum
Address: Sos. Kiseleff 3 (inside the Romanian Peasant Museum)
A compact, but fascinating, cellar room inside the Peasant Museum is home to a collection of communist-era busts (including that of Lenin), paintings and memorabilia.
Cotroceni Palace & Museum (Muzeul National Cotroceni)
Address: Str. Geniului 1
Tel: (021) 317.31.07 or 430.44.85
Open: Tue. - Sun. 9:00am - 5:00pm; Closed Mon.
Admission charge (Guided tours are available in English)
Note: Guests are received by appointment only; please call for reservations.
A former royal residence built between 1679 and 1681 by Prince and ruler Serban Cantacuzino, the palace was home to King Carol I, who made important changes in its architecture. At the end of the 19th century, Heir-to-the-Crown Ferdinand ordered the partial demolition of the palace, which was later reconstructed by French architect Paul Gottereau in neoclassical style. In 1977, Nicolae Ceausescu transformed it into an official guesthouse with the addition of a new wing.
After 1990, the old wing of the palace became a museum. The Oriental Hall, the Norwegian Hall and the Queen's Chamber are almost unchanged from the original design and are worth visiting. Very important collection of medieval art also can be seen here. The new wing serves as the seat of the Romanian Presidency.
George Enescu Museum (Muzeul National George Enescu)
Address: Calea Victoriei 141
Tel: (021) 318.14.50
Open: Tue. - Sun. 10:00am - 5:00pm; Closed Mon.
Admission charge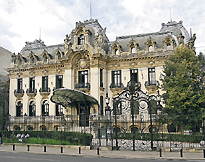 The museum, housed in the Cantacuzino Palace, displays documents and various objects that belonged to the great Romanian composer and violinist George Enescu (1881-1955), including a Bach music collection he received as a gift from Queen Elisabeta of Romania. A world-class violinist, Enescu studied at the Vienna Conservatory, where he met German composer Johannes Brahms and where he also gave his first concerts. In Paris, Enescu graduated from the French Conservatory in 1899. His best-known works, the Romanian Rhapsodies, earned him national and international fame. In 1936, his Oedipe tragic opera premiered in Paris and Enescu was awarded the French Legion of Honor award for the composition. A member of the Romanian Academy and corresponding member of the Institute of France, George Enescu was the teacher of renowned violinist Yehudi Menuhin. Every two years, the Romanian Athenaeum celebrates the maestro by hosting the George Enescu International Festival.
Grigore Antipa Natural History Museum (Muzeul National de Istorie Naturala)
Address: Sos. Kiseleff 1
Tel: (021) 312.88.63
www.antipa.ro
Note: The museum is currently closed for renovations.
Admission charge
Recently renovated, this museum is the largest natural history museum in Romania, housing collections of reptiles, fish, birds and mammals. More than 300,000 artifacts and specimens are on display, including a dinosaur fossil. A whole floor is dedicated to sea life and features examples of whales, dolphins and seals. The museum also contains a beautiful butterfly collection.
Minovici Museum of Ancient Western Art (Muzeul de Arta Veche Apuseana)
Address: Str. Dr. Minovici 3
Tel: (021) 665.73.34
Note: The museum is currently closed.
Admission charge
In addition to the small renaissance art collection of Dumitru Minovici, who made barrels of lei in the oil business in the 1930s, the museum features Belgian tapestries, Dutch furniture, Swiss stained glass, a complete library and Italian paintings from the 16th and 17th centuries.
Museum of the Romanian Peasant (Muzeul Taranului Roman)
Address: Sos. Kiseleff 3
Tel: (021) 317.96.60
Email: info@muzeultaranuluiroman.ro
Web: www.MuzeulTaranuluiRoman.ro/en/index.php?page=colectii
Open: Tue. - Sun. 10:00am - 6:00pm; Closed Mon.
Admission charge
Opened in 1906, the museum features the richest folk art collection in Romania, with over 90,000 artifacts that trace the colorful and diverse cultural life of the Romanian people. The Pottery Collection includes some 18,000 items, representative of the most important pottery centres in the country. The oldest ceramic item found in the museum bears the inscription 1746. Equally impressive, the Costume Collection comprises almost 20,000 traditional folk costumes, some dating from the beginning of the 19th century, giving visitors insight into the styles and traditions of the Romanian peasants.
The displays dip into all aspects of life in the Romanian countryside. Exhibits of agricultural tools, carpets, icons, furniture, photographs and films build up a complete picture of Romanian folk culture. In one of the galleries, you can see a wooden church and in another, a wooden peasant house. Four more wooden churches stand in the outdoor museum area. In 1996, the museum was named European Museum of the Year. Visitors can buy regional handcrafts and textiles in the museum's extensive gift shop.
National Art Museum (Muzeul National de Arta)
Address: Calea Victoriei 49-53
Tel: (021) 313.30.30
Email: national.art@art.museum.ro
Web: www.mnar.arts.ro/EN_home.php#
Open: Wed. – Sun.. 11:00 a.m. - 7:00 p.m. (May - September);
Wed. - Sun. 10:00 a.m. – 6:00 p.m. (October - April); Closed Mon. & Tue.
Admission charge (English guided available)
Romania's leading art museum was founded in 1948 to house the former Royal Collection, which included Romanian and European art dating from the 15th to the 20th century. Located in the neoclassical former Royal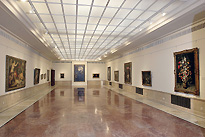 Palace, set amid a wealth of historic buildings such as the Romanian Athenaeum, Kretzulescu Church and the Hotel Athenee Palace-Hilton, the museum currently exhibits over 100,000 works divided into two major sections. Its National Gallery features the works of major Romanian artists, including Grigorescu, Aman and Andreescu. There is also a roomful of early Brancusi sculpture, such as you won't find anywhere else, demonstrating how he left his master, Rodin, behind in a more advanced form of expression. The European Gallery, comprising some 15 rooms, displays little-known art gems from the likes of El Greco, Monet, Rembrandt, Renoir, Breughels (father and son) Cezanne and Rubens. If you only have time to visit one gallery, make it the Romanian one. It is the most complete collection of Romanian works of art in the country and quite possibly, the world.
National Geological Museum (Muzeul National de Geologie)
Address: Sos. Kiseleff 2
Tel: (021) 212.89.52
Web: www.onlinegallery.ro/mgeo_flori-mina.html
Open: Mon. - Sun. 10:00am - 4:00pm
Admission charge
Impressive collections of minerals and quartz formations specific to the area are found here, including a well-presented geological structure of Romania.
National History Museum (Muzeul National de Istorie al Romaniei)
Address: Calea Victoriei 12
Tel: (021) 315.82.07
Open: Tue. - Sun. 10:00am - 6:00pm; Closed Mon. (May - September); Tue. - Sun. 9:00am - 5:00pm; Closed Mon. (October - April)
Admission charge
Housed in a 1900s neoclassical building that once served as the city's main post office, the museum offers a great introduction to the exciting history of Romania. Spread throughout 41 rooms, the exhibits recount the country's development from prehistoric times to the 20th century. The highlight is the National Treasury Hall where visitors can enjoy a dazzling display of some 3,000 gold items, including jewelry and valuable Neolithic artifacts.
Among the displays are the 12 pieces of the 4th century Pietroasele Treasure Collection. First presented at the 1867 World's Fair in Paris, it was considered the most valuable treasure collection in the world (the tomb of Tutankamon had not yet been discovered). One year later, the collection was displayed at the Second Annual International Exhibition in London and in 1872, at the International Exhibition in Vienna.
Romania was the only Warsaw Pact country without Soviet troops on its soil after 1958.
National Military Museum
(Muzeul Militar National)
Address: Str. Mircea Vulcanescu 125-127
Tel: (021) 638.76.30
Open: Tue. - Sun. 9:00am - 5:00pm; Closed Mon.
Admission charge
Founded in 1972, the museum illustrates the most important battles for independence and freedom in Romanian history. The museum features collections of Oriental and Occidental weapons, Romanian and foreign uniforms, military medals and awards, trophies, artillery, canons and airplanes as well as a library of historical military documents.
The centerpiece is the 1989 Revolution exhibit, displaying mainly personal belongings donated by families of soldiers and civilians killed during the upheaval.
National Museum of Contemporary Art
(Muzeul National de Arta Contemporana)
Address: Calea 13 Septembrie 1, entrance E4
Tel: (021) 411.10.40
Email: info@mnac.ro
Web: www.mnac.ro
Open: Wed. - Sun. 10:00am - 6:00pm;
Closed Mon. & Tue.
Admission charge
Bucharest's newest museum, the MNAC, as it is often called by museum-goers, displays works of Romania's contemporary artists as well as many temporary exhibits by international artists. The museum is housed in a wing of the Palace of Parliament, the space which would have served as Nicolae and Ileana Ceausescu's private apartment (where just the bathroom occupied 680 square feet, while the adjoining boudoir was three times that size).
National Museum of Old Maps & Books (Muzeul National al Hartilor si Cartii Vechi)
Address: Str. Londra 39
Tel: (021) 230.44.68
Email: muzeulhartilor@artelecom.net
Open: Wed. - Sun. 10:00am - 6:00pm; Closed Mon. & Tue.
Admission charge
Though it may not house the world's biggest collection, this museum is worth a visit, especially if you are interested in old maps and books.
Romanian Railways Museum (Muzeul Cailor Ferate Romane)
Address: Calea Grivitei 193
Tel: (021) 222.75.20
Open: Tue. - Sun. 9:00am - 4:00pm; Closed
Admission charge
Several engines and wagons are on display in the open-air section of the museum. Inside, you can find an 1869 Morse telegraph, memorabilia, turn-of-the-century pictures and some age-old Romanian railway uniforms.
Storck Museum (Muzeul de Arta Frederic Storck si Cecilia Cutescu-Storck)
Address: Str. Vasile Alecsandri 16
Telephone: (021) 317 38 89
Email: muzeul.storck@muzeulbucurestiului.ro
Open: Tue. - Sun. 9:00am - 4:00pm; Closed Mon.
Admission charge
This museum pays tribute to the works of sculptor Frederick Storck, founder of the Romanian school of architecture, and his wife, Cecelia Cutescu-Storck, an artist and a keen advocate of enhanced recognition for women in the arts. Some 150 paintings and 250 sculptures are featured in the beautiful Storck residence, built in 1913 by a French architect after the plans of Frederick Storck.
Technical Museum (Muzeul Tehnic)
Address: Str. Candiano Popescu 2 (inside Carol I Park)
Tel: (021) 336.93.90
Open: Wed. - Sun. 11:00am - 6:30pm; Closed Mon. & Tue.
Admission charge
This museum displays some 5,000 exhibits covering a wide range of industrial models: turbines, compressors, steam engines, the cylinder from the first steam engine that was used in a Romanian factory, as well as antique cars and motorcycles.
Theodor Pallady Museum (Muzeul Theodor Pallady)
Address: Str. Spatarului 22
Tel: (021) 211.49.79
Web: www.mnar.arts.ro/muzsatelit/EN_pallady.php
Open: Wed. – Sun.. 11:00 a.m. - 7:00 p.m. (May - September);
Wed. - Sun. 10:00 a.m. – 6:00 p.m (October - April); Closed Mon. & Tue.
Admission charge
Housed in the beautifully restored Melik house, built around 1750 by the rich Armenian Hagi Kevork Nazaretoglu, and currently, the oldest house in Bucharest, the museum features six Pallady paintings, a couple of his sketches and various other art objects.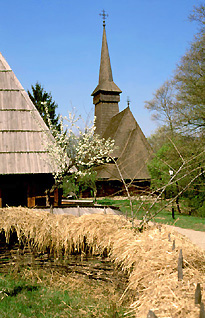 Village Museum (Muzeul Satului)
Address: Sos. Kiseleff 28-30
Tel: (021) 317.91.03
E-mail: contact@muzeul-satului.ro
Open: Mon. 9:00 a.m. – 5:00 p.m.;
Tue. - Sun. 9:00 a.m. - 7:00 p.m.
Admission charge
Founded by royal decree in 1936, this fascinating outdoor museum, the largest in Europe, covers some 30 acres on the shores of Lake Herastrau in Herestrau Park. It features a collection of 50 buildings representing the history and design of Romania's rural architecture. Steep-roofed peasant homes, thatched barns, log cabins, churches and watermills from all regions of the country were carefully taken apart, shipped to the museum and rebuilt in order to recreate the village setting. Throughout the year, the Village Museum hosts special events where you will have a chance to witness folk artisans demonstrating traditional skills in weaving, pottery and other crafts. Folk arts and crafts are available at the museum gift shop.
Zambaccian Museum (Muzeul Zambaccian)
Address: Str. Zambacian 21A
Telephone: (021) 230.19.20
Open: Sat. - Wed. 11:00am - 7:00pm; (May - September);
Sat. - Wed. 10am - 6pm (October - April); Closed Thu. & Fri.
Admission charge
The museum possesses the private art collection of Krikor Zambaccian (1889-1962). Names such as Andreescu, Grigorescu, Luchian, Pallady and Tonitza are famous in Romania, albeit less known outside the country, but the works, mainly following the Impressionist school, are of the highest quality. There are also several small sculptures that complement the canvases. Although Zambaccian was a big patron of the art of his home country, he also collected European works from artists such as Cezanne, Renoir, Delacroix, Corot, Derain, Matisse, Pissaro, Bonnard, Utrillo and Picasso. The museum preserves the initial display as it was conceived by the art collector himself.
Cismigiu Garden (Gradina Cismigiu)
Address: Blvd. Regina Elisabeta (across from Bucharest City Hall)
Designed in 1845 by the German landscape architect Carl Meyer, the garden opened to the public in 1860. The name, Cismigiu, comes from the Turkish cismea, meaning "public fountain." More than 30,000 trees and plants were brought from the Romanian mountains, while exotic plants were imported from the botanical gardens in Vienna. Cismigiu is Bucharest's oldest park and a great place to stroll and enjoy a break from the hectic city. Set amid green lush lawns and winding paths, the park offers a lake with rowboat rentals, a beer garden, a playground for children, a chess area for amateurs and plenty of park benches for relaxing and people-watching.
Botanical Garden (Gradina Botanica)
Address: Sos. Cotroceni 32 (across from Cotroceni Palace)
Tel: (021) 410.91.39
Open: Mon. - Sun. 8:00am - 5:00pm
Admission charge
Opened in 1891, the garden features over 5,000 varieties of plants from Romania and around the world. The garden also encompasses a beautiful building in the Brancovenesc architectural style, housing the Botanical Garden Museum. Here, you can peruse manuscripts, old botanical research devices and a collection of artifacts made of vegetal materials. Locals treat the gardens as a park, and on warm afternoons, you may see more young lovers than plants. The huge greenhouses are open Tue, Thu, Sat, Sun, 9am - 1pm.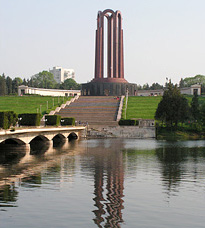 Carol I Park (Parcul Carol I)
Address: Calea Serban Vodá
This large park is one of the most beautiful in the city and contains a massive monument that once housed the remains of communist leader Gheorge Gheorgiu Dej, as well as the eternal flame that marks the grave of the Unknown Soldier. Designed by French landscape architect Eduard Redont in 1900s, the park offers pleasant walks down tree-lined paths, a good view of central Bucharest (from the monument) and plenty of photo opportunities. In summertime, the park's Arenele Romane is the stage for open-air concerts.
Herastrau Park (Parcul Herastrau)
Address: Sos. Kiseleff 32
Spread over some 400 acres, from the Arch of Triumph to the Baneasa Bridge, the park is home to numerous attractions, including a boat rental complex, tennis courts, and a rather old-fashioned fairground. In the summertime, many terraces open up on the shores of the lake. For an overview of the park, take a ride around the lake on the ferry or rent your own boat. The park is also home to the Village Museum. The area surrounding the park holds even greater treasures. The streets between Bulevardul Mircea Eliade and Soseaua Kisileff contain extraordinarily beautiful houses in architectural styles ranging from 19th century neoclassical to 20th century art nouveau and modern luxury villas. This is where Bucharest's elite once lived - and still do today.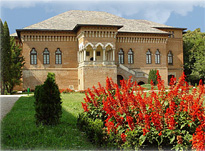 Mogosoaia Palace & Brancovenesc Museum
(Palatul Mogosoaia & Muzeul Brancovenesc)
Where: 9 miles north of Bucharest
Access: car, taxi
Address: Str. Valea Parcului 1
Tel: (021) 490.42.37
Open: Mon. - Sun. 8:00am - 6:00pm
Admission charge
Located in the village of the same name on the shore of Mogosoaia Lake, this palace reflects the Brancovenesc architectural style, featuring traditional Romanian staircase balconies, arcades and columns. Built by the Walachian prince Constantin Brancoveanu between 1698 and 1702 as a summer residence, the palace features a beautiful Venetian-style loggia on the facade facing the lake and a balcony with intricate Brancovenesc-style carvings overlooking the main courtyard. Today, the palace houses the Brancovenesc Museum with exhibits of valuable paintings, wood and stone sculptures, gold and silver embroideries, rare books and precious manuscripts.

Inside the complex, there is also a church built in 1688 and decorated by a team of Greek artists. The original interior murals have been well-preserved, including a painting showing Constantin Brancoveanu with his wife, Maria, and their four sons and seven daughters, all wearing royal dress.
Snagov Monastery & Lake (Manastirea & Lacul Snagov)
Where: 25 miles north of Bucharest
Access: car, bus, taxi
One hundred years after the church was built (1364), Vlad Tepes (Vlad Dracula) added the fortress walls and a dungeon. A plaque on the floor of the church marks the grave with the presumed remains of the count. The monastery, located on an island on the far side of the lake, can only be accessed by boat.
Bucharest is a great starting point from which to explore the rest of the country. Away from the buzz of the city, you will find a different side of Romania - life in the countryside moves more slowly, the air is crisp and hospitality abounds.
Peles Castle & Sinaia Monastery in Sinaia

Where: 80 miles north of Bucharest
Access: car, bus, train
Bran (Dracula's) Castle in Bran & Ethnographic Museum in Bran
Where: 84 miles north of Bucharest
Access: car, train to Brasov, and bus from Brasov to Bran
www.RomaniaTourism.com/castles.html
Medieval town of Brasov & Poiana Brasov Resort
Where: 96 miles north of Bucharest
Access: car bus, train
www.RomaniaTourism.com/Brasov.html

Targoviste - Curtea de Arges - Poenari Fortress
Where: northwest of Bucharest (total distance: 138 mile)
Access: car
In Targoviste, tour the 14th century Princely Court (Curtea Domneasca) and Chindiei Watchtower (Turnul Chindiei). The grounds are open Tuesday through Sunday from 9am till 5pm. From Targoviste, continue to Curtea de Arges.
Once you reach Curtea de Arges, visit the 14th-century Princely Court and the Princely Church, with its lovely interior frescoes. According to tradition, Curtea de Arges was founded in the early 14th century by Prince Radu Negru. The town succeeded Campulung as the capital of Wallachia, hence its name Curtea (The Court).
Another stunning architectural gem is the 16th century Curtea de Arges Monastery (Manastirea Curtea de Arges), toppled with two towers spiraling in opposite directions. Behold the sad legend of Manole* as you take in its beauty. Romania's first two kings and queens are buried here.
Interesting fact:
Legend says that Manole, the master builder, had to sacrifice his wife by imprisoning her in the monastery walls to prevent them from falling apart.
Fifteen miles north of Curtea de Arges, Dracula fans surely will not want to miss the ruins of Poenari Fortress (considered to be the authentic Dracula's Castle). Only the walls and towers still stand from the original fortress located near Poienari village on the Transfagarasan highway over the Transylvanian Alps. You will need stamina to climb the 1,462 steps to reach the castle ruins, perched high above the surrounding area like an eagle's nest.
Horezu Monastery & Horezu Pottery Centre
Where: 120 miles northwest of Bucharest
Access: car, bus
Fifty miles west of Curtea de Arges stands Horezu Monastery, the largest monastic settlement in Walachia, founded in 1690 by Prince Constantine Brancoveanu. A masterpiece of the Brancovenesti style and a UNESCO World Heritage site, Horezu is renowned for the richness of its sculptural detail, the treatment of its religious compositions and its painted decorative works. The monastery houses precious collections of frescoes and icons dating from the end of the 17th century and the beginning of the 18th century.
The nearby village of Horezu is home to one of the biggest pottery centres in Romania. Nearly a century ago, local nuns taught the villagers how to make and paint pottery, and ever since, people have come from far and wide to get their hands on Horezu's ceramic.
Targu Jiu
Where: 190 miles west of Bucharest
Access: car, bus, train
www.RomaniaTourism.com/Targu-Jiu.html
A must for all art lovers is a visit to Targu Jiu on the banks of the River Jiu. This former market town is closely associated with Constantin Brancusi, considered by many to be the father of modern sculpture. While most of his works are on display in prestigious museums throughout the world, his trilogy of public sculptures, The Table of Silence (Masa Tacerii), The Gate of the Kiss (Poarta Sarutului) and The Endless Column (Coloana Infinitului) can be admired at the Constantin Brancusi sculptural complex in downtown Targu Jiu.
Nearby in Hobita, the birthplace of Constantin Brancusi, you can visit the house in which the sculptor spent his childhood; it now houses a small museum dedicated to the master. The house preserves the original architecture and accessories (the bed, the cellar and the well). The village is also home to the national sculpture camp "Brancusiana".
Bucharest has a great many theatres and concert halls. You can purchase tickets for performances directly at the venue's box office. To find out what's playing currently, check the listings in Sapte Seri (Seven Evenings): www.sapteseri.ro
» Opera & Ballet
National Opera & Ballet (Opera Nationala Romana)
Address: Blvd. Mihail Kogalniceanu 70-72
Tel: (021) 313.18.57
Web: www.operanb.ro
Box office hours: Mon. - Sun. 10:00am - 1:00pm & 2:00pm - 7:00pm
The city's artistic life stood up to its Parisian nickname in the 1930s and today, is as vibrant as ever. The Opera House, completed in 1953, is worth visiting, not only for its brilliant performances but also for the lavish interior design. The world-renowned Romanian Opera performs in Romanian as well as Italian and German. You will be able to enjoy the classic repertoire - Puccini, Verdi, Rossini, Mozart -, innovative staging, lavish costumes, seasoned performers and choreographers. The Romanian National Ballet also performs in this theatre. Performances are held Wednesday through Sunday evenings, except during July and August.
National Operetta Theatre (Teatrul National de Opereta 'Ioan Dacian')
Address: Blvd. Nicoale Balcescu 2
Tel: (021) 313.63.48
E-mail: opereta@rdslink.ro
Web: www.opereta.ro
Box office hours: Tue. - Sat. 11:00am - 6:00pm; Sun. 2:00pm - 6:00pm; Closed Mon.
Comic plots, extravagant staging, lavish costumes, high caliber singers and orchestra are all part of the charm of the light, frothy performances at the Ion Dacian Operetta.
» Symphonic Music
George Enescu Philharmonic at Romanian Athenaeum
(Filarmonica George Enescu)
Address: Str. Benjamin Franklin 1
Tel: (021) 315.00.26 or 315.25.67
Web: http://fge.org.ro/
Box office hours: Tue. - Fri. 12:00pm - 7:00pm;
Sat. & Sun. 4:00pm - 7:00pm; Closed Mon.
George Enescu International Music Festival: www.festivalenescu.ro
Renowned worldwide for its outstanding acoustics, the Romanian Athenaeum is the home of the Romanian George Enescu Philharmonic. Famous artists and conductors have performed here throughout the years. Among them: Erich Kleiber, Sergiu Celibidache, Ionel Perlea, Herbert von Karajan, Dinu Lipatti, Arthur Rubinstein, Pablo Casals and Yehudi Menuhin.
National Radio Orchestra and National Chamber Orchestra
Address: Str. General Berthelot 60-64 (Sala Radio)
Tel: (021) 303.12.11 or 303.14.28
Web: http://orchestre.srr.ro/program/index.htm
Box office hours: Mon. - Sun. 10:00am - 6:00pm
The National Radio Orchestra, one of the best in the country, presents frequent classical chamber music performances at the music hall in the radio building.
» Theatre
The Russians introduced the Stanislavski technique - the method which gave the world Marlon Brando - to Romanian theatre and this keeps acting standards high. While most theatre productions are performed in Romanian, sometimes, it is possible to find performances in German or English at various small theatres. The theatre season closes during the summer, from July to September, although some small student and underground theatres do remain open.
National Theatre (Teatrul National)
Address: Blvd Nicolae Bálcescu 2
Tel: (021) 314.71.71
Three auditoriums host professional domestic and foreign plays by a broad selection of both classical and contemporary Romanian playwrights. The theatre's Big Hall (Sala Mare), hosts the grand productions, while the Amphitheatre (Sala Amfiteatru) shows smaller productions and TV shows, and the Studio Hall (Sala Atelier) gets a mix of low-key shows and presentations.
National Jewish Theatre (Teatrul Evreiesc de Stat)
Address: Str. Dr. Iuliu Barasch 15
Tel: (021) 323.39.70
The Jewish Theatre presents plays in Yiddish, Hebrew or Romanian (with translations via headphones).
» Live Music
Art Jazz Club
Address: Blvd. Nicolae Balcescu 23A
Tel: 0722.589.058
Web: www.artjazzclub.ro
Open: Tue. - Sun. 1:00pm - 3:00am; Closed Mon.
Green Hours 22 Jazz Café
Address: Calea Victoriei 120
Tel: (021) 314.57.51
Web: www.green-hours.ro
Open: 24 hours
Laptaria lui Enache/ La Motor
Address: Blvd. Nicolae Balcescu 2
Tel: (021) 315.85.08
Located nearby the National Theatre, this bar is filled with university students, artists, musicians and young professionals. Usually crowded, the bar (called Laptaria lui Enache) is open all year long, while its rooftop counterpart (called La Motor) is open only during the summer when movies are shown on the terrace. At Laptaria, you can catch live music most evenings.
» Cinemas
Foreign movies are generally shown in the original language with Romanian subtitles. Current film listings are available online www.sapteseri.ro
» Circus
Bucharest Globus Circus (Circul Globus Bucuresti)
Address: Aleea Circului 1
Tel: (021) 210.24.19 or 210.49.98
Built in 1960, the enormous, permanent big-top circus is the centerpiece of a small but lovely park. With seating for more than 3,500 spectators, Bucharest's circus continues to host excellent performances, put on by both local and touring companies.
» Casinos
When it comes to gambling, Las Vegas or Monte Carlo may come first to your mind. In recent years, however, more and more casinos have opened up in Bucharest, one of the few cities in east-central Europe offering gambling opportunities. Many 18th and 19th century palaces and mansions now house elegant beaux-arts casinos, where guests can play blackjack, poker, craps, roulette, baccarat and other games of chance, dine on sumptuous buffets and dance all night to live music.
Bucharest Casino (Inter-Continental Hotel)
Address: Blvd. Nicolae Balcescu 4
Tel: (021) 310.20.20
Web: www.casinobucharest.ro
Open: Mon. - Sun. 6:00pm - 6:00am
Grand Casino (Marriott Grand Hotel)
Address: Calea 13 Septembrie 90
Tel: (021) 403.08.01
Open: 24 hours
Havana Princess Casino
Address: Blvd. Elisabeta 13
Tel: (021) 313.98.23
Open: 24 hours
Lido Casino
Address: Str. C.A. Rosetti 13
Tel: (021) 311 0101
Open: 24 hours
Mirage Casino
Address: Blvd. Magheru 8-10
Tel: (021) 313.89.52
Open: 24 hours
Palace Casino
Address: Calea Victoriei 133
Tel: (021) 311.97.44
Web: www.casinopalace.ro
Open: 24 hours
Partouche Casino (Hotel Athenee-Palace Hilton)
Address: Str. Episcopiei 1-3
Tel: (021) 314.72.00
Open: 24 hours
Plaza Casino Club
Address: Calea Victoriei 163
Tel: (021) 310.24.80
Open: Mon. - Sun. 2:00pm - 7:00am
Queen Casino
Address: Calea Dorobantilor 5-7
Tel: (021) 599.11.26
Web: www.queen-casino.ro
Open: 24 hours
Easter Gifts National Arts & Crafts Fair (April)
Bucharest of Old Festival (May)

'GayFest' Gay Pride Festival (May)

Bucharest 'ArtPhoto' Image & Photography Festival (May - June)
Bucharest "D'Ale Bucurestilor" Street Music Festival (June)

Craftsmen's Fair (June - July)

Bucharest City Challenge - Car Racing (August)
George Enescu Music Festival (September- every two years)

International Furniture and Interior Design Fair / BIFE-TIMB (September)
Romania Tennis Open - an ATP event (September)
Winter Gifts Arts & Crafts Fair - Museum of the Romanian Peasant (December)

CITY ESSENTIALS
Transportation
» By Air
» By car
» By Train
» Public Transportation
» Taxi Companies

» By air
Henri Coanda International Airport (OTP)
Address: Calea Bucurestilor 224
Tel: (021) 204.12.00 or 204.12.10
Web:www.otp-airport.ro
Most international flights arrive at Henri Coanda International Airport (Otopeni), located about 12 miles north of downtown Bucharest. Facilities include ATMs, an exchange office and cell phone rentals. Major car rental companies have offices located on the baggage claim level.
There are direct flights from multiple destinations in Europe and connecting flights from the United States, Canada, Australia and New Zealand.
Airlines fly from North America to Romania
(with a stop in major European cities) include:
Austrian Airlines, Air France, Alitalia, American Airlines, British Airways, KLM, Lufthansa
Domestic Flights:
There are scheduled domestic flights from/to Cluj-Napoca (CLJ), Iasi (IAS), Oradea (OMR), Satu Mare (SUJ), Sibiu (SBZ), Suceava (SCV), Timisoara (TSR).
For domestic flights information and reservations please visit: www.tarom.ro
Transportation between Henri Coanda International Airport and city centre:
Currently the only taxi company licenced to pick-up passengers from the airport is Fly Taxi (telephone: 9411). Fare to downtown Bucharest is about $25. Fly Taxi's fee per km for trips from the airport is about 3.30 Lei ($1.8/mile).
Express Bus 783 offers daily service to the city centre, with stops at Baneasa Airport, Piata Presei Libere, Piata Victoriei, Piata Romana, Piata Universitatii and Piata Unirii.
The bus leaves from the international departures terminal every 15 minutes (every 30 minutes after 8:30pm and during weekends), from 5:30am until 11:00pm.
The journey to downtown takes approximately 40 minutes.
Fare is 7 Lei (about $2.5) for a round-trip ticket.
Transportation between Henri Coanda International Airport and
the main train station (Gara de Nord):
By Bus
Express Bus 780 offers daily service to the main train station (Gara de Nord) with stops at: Henri Coanda Airport - Baneasa Airport - Piata Presei Libere - Clabucet - Gara de Nord - Str. Fluviului.
The bus runs every 30 minutes from 5:15 a.m. to 11:00 p.m. seven days a week.
It leaves from the international arrivals terminal; the journey to the train station takes 40 minutes to 60 minutes.
A roundtrip ticket costs (about $2.50) per trip.
Note: You need to purchase a RATB ticket before boarding the bus (for sale at the 'RATB' ticket booth in the arrivals termina; Open: Mon - Sun. 6:00 a.m. - 8:30 p.m.
By Train
Henri Coanda Express Trains offer daily service from Balotesti (0.5 miles from the airport) to the main train station (Gara de Nord) with one stop at Mogosoaia.
Trains run hourly from 5:56 a.m. to 9:00 p.m.; the journey from the airport to the train station takes about one hour and 10 minutes.
One-way ticket costs 6 Lei ($2.20). Transfer from Balotesti train station to the International Arrivals Terminal is included.
Note: Tickets can be purchased at the CFR booth International Arrivals Terminal.
Bucharest Limousine Services:
Tel: (021) 201.49.37
Web: www.starlimoservices.com (fare averages $35)
Baneasa Airport
Address: Sos. Bucuresti-Ploiesti 40
Tel: (021) 232.00.20 or 9713
Web: www.baneasa-airport.ro
Baneasa Airport, located six miles from downtown Bucharest, is used for charter flights and scheduled low-cost flights from/to destinations in Europe.
Low-cost airlines with service to Baneasa Airport:
Blue Air, German Wings, MyAir, Sky Europe, Wizz Air.
Public transportation between Baneasa airport and city centre:
Bus #131 to downtown Bucharest
Bus #205 to the main train station (Gara de Nord)
Taxi - $10.00 (average)
Bucuresti North - main train station (Gara de Nord)
Address: Blvd. Garii de Nord 2
Tel: 9521
Bucharest's main station, Gara de Nord, is located three miles from downtown Bucharest and is a major rail centre with daily connections from/to cities throughout Europe and main cities in Romania.
Interesting fact: The original Orient Express ran from Paris to Istanbul.
International trains
There are daily trains from/to Athena, Belgrade, Budapest, Istanbul, Kiev, Moscow, Prague, Sofia, and Vienna. Trains from/to Western European cities run via Budapest.
Getting to Romania / By Train
http://www.RomaniaTourism.com/Transportation.html#ByTrain
» Romania by Rail
There are daily trains from/to Arad, Baia Mare, Bistrita, Brasov, Cluj-Napoca, Constanta, Iasi, Medias, Piatra Neamt, Oradea, Satu Mare, Satu Mare, Sebes, Sibiu, Sighetu Marmatiei, Sighisoara, Suceava, Targu Mures, Timisoara, Tulcea, and numerous other towns in Romania.
Express (Rapid and INTERCITY) train connections
between Bucharest and main cities:
(Schedule as of January 9th, 2009)
Bucharest
(Nord Station) /
Departure time
To / Arrival time
1:00 pm
Arad / 11:07 pm
7:07 am
Brasov / 10:07 am
1:00 pm
Brasov / 3:48 pm
4:45 pm
Brasov / 7:39 pm
1:00 pm
Cluj Napoca / 9:16 pm
7:45 am
Constanta / 11:54 am
6:45 am
Craiova / 9:26 am
5:35 am
Galati / 8:58 am
6:02 am
Iasi / 12:47 pm
5:50 pm
Iasi / 11:58 pm
1:00 pm
Oradea / 12:04 am
7:50 pm
Satu Mare / 7:54 pm
3:30 pm
Sibiu / 8:57 pm
5:33 pm
Sighetu Marmatiei / 7:14 am
1:00 pm
Sighisoara / 5:55 pm
1:30 pm
Sinaia / 2:45 pm
6:02 am
Suceava Nord / 12:20 pm
5:01 pm
Suceava Nord / 11:20 pm
6:45 am
Timisoara Nord / 2:33 pm
10:45 pm
Timisoara Nord / 7:00 pm
3:45 pm
Timisoara Nord / 11:30 pm
To check the latest train schedules for domestic routes please visit the website of the Romanian Railways:
www.infofer.ro
The site has complete information about domestic train schedules and fares.
Note: For Bucharest please select Bucuresti Nord.
SNCFR's advance booking office (Agentia de Voiaj SNCFR Bucuresti)
Address: St. Domnita Alexandra 10-14
Tel: (021) 313.26.42
Open: Mon. - Fri. 7:30am - 7:30pm; Sat. 8:00am - 12:00pm; Closed Sun.
You can get train schedule information and make reservations up to 24 hours in advance. Tickets for same-day travel can only be purchased at the station.
Wasteels Travel
Address: Gara de Nord
Tel: (021) 317.03.69
Email: marketing@wasteels.eunet.ro
Web: www.wasteels.ro/en
Open: Mon. - Fri. 8:00am - 7:00pm; Sat. 8:00am - 2:00pm; Closed Sun.
Advance reservations for national and international trains.
International Bus Companies serving Bucharest:
Anesis
Address: Str. Poterasi 20-22
Tel: (021) 330.91.76
Scheduled service to Athens (Greece)
Atlassib
Address: Blvd. Gh. Duca 4
Tel: (021) 222.47.35
Scheduled service to France, Germany, Italy, Sweden
DoubleT
Address: Calea Victoriei 2
Tel: (021) 313.36.42
Scheduled service to Austria, Germany, Greece, Italy, Switzerland
Eurolines Touring
Address: Blvd. Al. Ioan Cuza 5A
Tel: (021) 210.08.90
Scheduled service to Germany with connections to any country in Europe
Murat
Adress: Blvd. Dinicu Golescu 31
Tel: (021) 336.6215
Daily service to Istanbul (Turkey)
Toros
Adress: Calea Grivitei 136-138
Tel: (021) 223.18.98
Daily service to Istanbul (Turkey)
Distance from Bucharest to:
City
Distance
(miles)
Flight time
Aprox.
driving time
Express train
travel time
Belgrade
449
1:05
9:30
12:15
Brasov
96
N/A
2:30
3:00
Budapest
526
1:00
11:00
12:00
Cluj-Napoca
270
0:50
6:30
7:30
Constanta
135
0:35
2:50
4:00
Iasi
269
1:00
6:30
6:45
Istanbul
398
0:55
8:30
18:00
Oradea
365
1:10
7:30
11:15
Satu Mare
378
1:10
8:30
14:30
Sibiu
170
0:45
4:30
5:00
Sofia
254
0:45
5:30
10:15
Suceava
282
1:05
6:30
6:30
Targu Jiu
179
N/A
4:00
5:45
Tulcea
174
0:40
3:30
5:30
Timisoara
347
1:10
7:30
6:30
Vienna
692
1:15
14:00
17:00

» Public Transportation
Bucharest has an efficient public transportation network made up of: bus (autobuz), tram (tramvai) and trolley bus (troilebuz) as well as subway (Metrou).
The ground transportation system operates - between 5:00am and 11:59pm.
Tickets must be purchased beforehand and validated in the ticket-stamping machine upon boarding. You may be requested to show the stamped ticket during the trip. One-way tickets or passes valid for one day, one week, 15 days or one month can be purchased at any kiosk displaying the RATB logo. A one-way ticket is 1.3 Lei (approx. 50 cents). Tickets are interchangeable for the bus, tram and trolley bus, with the exception of express buses.
The express bus system is more useful for reaching destinations outside the city centre, as only a few express buses actually pass through the centre itself. Two- or 10-journey tickets, as well as monthly passes, are available for these buses.
RATB maps can be found at kiosks near bus and tram stops or you can print one here.
The subway (Metrou) is best for getting around the city centre; the system operates - between 5:00am and 11:30pm.
There are four metro lines (M1, M2, M3 and M4). The most frequently used line is the north-south M2 line (going from Pipera to IMGB, stopping at Piata Victoriei, Piata Romana, Universitate and Piata Unirii along the way. Metro stations are indicated by white signs with a blue "M." Tickets can be purchased inside the stations at counters indicated by a "Casa" sign.

Metro maps can be printed here or can be purchased in bookshops and kiosks (and are also posted near the ticket gate entrance). The final destination is indicated on the front of the train. Each stop is announced as the train nears the station. At peak times, they arrive every four to seven minutes, off-peak times every 15-20 minutes.

There are two types of ticket - two-trip 2.2 Lei (approx. $1.00) and ten-trip 8.0 Lei (approx. $3.00) tickets. One-day and one-month passes are also available at the station.

» Taxi companies

Several taxi companies operate in the city. Taxis can be summoned by telephone or hailed on the street. Fares per km are posted on driver's and passenger doors.

Average Taxi fares:
Initial Fee: 2.0 Lei ($0.7) plus 2.0 Lei / km ($1.12 / mile)
Check the taxi fares and ask the driver to confirm the approximate cost of the ride, if not sure. Please note that some taxi companies may post and/or charge up to five times the fares mentioned above.
Alfa - 9488
As - 9435
Cristaxi - 9461
Cobalcescu - 9451
Fly - 9440
Leone - 9425
Meridian - 9444
Mondial- 9423
Perozzi - 9631
Prof Taxi - 9422
Speed - 9477
Taxi 2000 - 9494

Shopping

Since the 1990s, brand names and high-end stores have been pushing their way into the Romanian market. From high fashion boutiques to art galleries, shopping in Bucharest can fit any taste or budget. Stroll down Blvd. Magheru from Piata Romana to Piata Universitatii for a shopping extravaganza or hit one of the many shopping malls favored by the local rich & famous.

» Shopping Centers

Afi Palace Cotroceni Mall
Address: Blvd. Timisoara
Tel: (031) 425.75.10
Web: www.aficotroceni.ro
Open: Mon. – Sun. 10:00 a.m. – 10:00 p.m.
Baneasa Shopping City
Address: Sos. Bucuresti – Ploiesti 42
Tel: (021) 306.06.58
Web: www.baneasashoppingcity.ro
Open: Mon. – Sun. 10:00 a.m. – 10:00 p.m.
Bucuresti Mall
Address: Calea Vitan 55-59, Bucharest
Tel: (021) 327.67.00
Web: www.bucurestimall.com.ro
Open: Mon. - Sun. 10:00am - 10:00pm

Grand Arena Mall
Address: Blvd. Metalurgiei 12-18, sector 4
Tel: (031) 425.75.14
Web: www.grandarena.ro/orar.php
Open: Mon. – Sun. 10:00 a.m. – 10:00 p.m.
Liberty Center
Address: Str. Progresului 151 - 171
Tel: (021) 369.98.75
Web: www.libertycenter.ro
Open: Mon. – Sun. 10:00 a.m. – 10:00 p.m.
Mario Plaza
Address: Calea Dorobantilor 172, Bucharest
Tel: (021) 230.47.71
Open: Mon. - Sat. 10:00am - 9:00pm, Sun. 10:00am - 2:00pm

Plaza Romania Mall
Address: Blvd. Timisoara 26, Bucharest
Tel: (021) 407.84.16
Web: www.plazaromania.ro/index.php
Open: Mon. - Sun. 10:00am - 10:00pm

Unirea Shopping Center
Address: Piata Unirii 1, Bucharest
Tel: (021) 303.03.07
Web: www.unireashop.ro
Open: Mon. - Sat. 9:00am - 10:00pm; Sun. 9:00pm - 8:00pm

World Trade Plaza
Address: Blvd. Expozitiei 2, Bucharest
Tel: (021) 202.44.50
Web: www.wtcb.ro/shopping_gallery.html
Open: Mon. - Sun. 8am - 8pm

» Art Galleries

Galeria 23
Address: Str. Lipscani 63 - 65, Bucharest
Tel: 740.819.826
Web: www.hantei23.com
Open: Mon. - Fri. 10:00am - 6:00pm; Sat. 10:00am - 2:00pm; Closed Sun.

Galeria Galateca
Address: Str. C. A. Rosetti 2-4, Bucharest
Web: www.onlinegallery.ro/Galatec.html#
Open: Mon. - Sun. 11:00am - 7:00pm

Galeria Galateea
Address: Calea Victoriei 132, Bucharest
Tel: (021) 659.38.14
Web: www.onlinegallery.ro/galleries_galateea.html
Open: Mon. - Sat. 11:00am - 7:00pm; Closed Sun.

Galeria Hanul Cu Tei
Address: Str. Blanari 5-7, Bucharest
Tel: (021) 313.01.81
Web: www.hanulcutei.ro/index.php
Open: Mon. - Sat. 11:00am - 7:00pm; Closed Sun.

Galeria Nemtoi
Address: Calea Victoriei 126, Bucharest
Tel: (021) 312.98.00
Web: www.nemtoigallery.com/
Open: Mon. - Fri. 10:00am - 8:00pm, Sat. 10:00am - 6:00pm; Closed Sun.

Galeria Noua
Address: Str. Academiei 15, Bucharest
Tel: (021) 322.81.59
Web: www.galerianoua.ro
Open: Wed. - Sun. 11:00am - 7:00pm; Closed Mon. & Tue.

Galeria Orizont
Address: Blvd. Nicolae Balcescu 23A, Bucharest
Tel: (021) 315.89.22
Web: www.onlinegallery.ro/galleries_orizont1.html
Open: Mon. - Fri. 10:00am - 7:00pm; Sat. 10:00am - 2:00pm; Closed Sun.

Galeria Simeza
Address: Blvd. Magheru 20, Bucharest
Tel: (021) 659.38.25
Open: Mon. - Fri. 10:00am - 6:00pm; Sat. 10:00am - 2:00pm; Closed Sun.


» Antiques

If it is antiques that you fancy, Bucharest provides plenty of opportunities to fulfill your every whim. Antiques can be found in art galleries along Calea Victoriei and around the Old Historical Center (Lipscani street).

Amadeus Antiques
Address: Str. Quinet 3, Bucharest
Tel: (021) 315.10.83
Open: Mon. - Fri. 10:00am - 6:00pm; Closed Sat. & Sun.

Craii de Curtea Veche
Address: Str. Covaci 14, Bucharest
Tel: (021) 314.83.04
Open: Mon. - Fri. 10:00am - 6:00pm; Sat. 10:00am - 3:00pm; Closed Sun.

Da Vinci
Address: Calea Victoriei 118, Bucharest
Tel: (021) 210.40.94
Open: Mon. - Fri. 9:00am - 6:00pm; Sat. 9:00am - 3:00pm; Closed Sun.

Galeria de Arta Dorobanti
Address: Str. Tudor Stefan 13, Bucharest
Tel: (021) 231.49.53
Open: Mon. - Fri. 10:30am - 6:30pm; Sat. 11:00am - 3:30pm; Closed Sun.

Hanul cu Tei
Address: Str. Lipscani 63, Bucharest
Tel: (021) 315.56.63
Open: Mon. - Fri. 10:00m - 6:00pm; Sat. 10:00am - 3:30pm; Closed Sun.

Quasar Antiques
Address: Calea Victoriei 63-81, Bucharest
Tel: (021) 313.47.26
Open: Mon. - Fri. 10:30am - 7:30pm; Sat. 10:30am - 2:30pm; Closed Sun.
Web: www.quasarantiques.ro
Book stores (Librarie)

Libraria Carturesti
Location 1: Str. Edgar Quinet 9, Bucharest
Tel: (021) 311.06.46
Location 2: Str. Pictor Verona 13, Bucharest
Tel: (021) 212.19.22
Web: www.carturesti.ro
Open: Mon. - Sun. 9:00am - 10:00pm
Books, tea, music . (some books in English)


» Handicrafts (Artizanat)

Folk crafts, such as embroidered clothing and linen, painted or beaded eggs, carpets, pottery, woodcarvings and icons, make interesting gifts and souvenirs. Romanian peasants do magnificent embroidery on cotton, wool and leather. Look for blouses, skirts, exotic coats, rugs, tablecloths and lacework. Icons, new and old, painted on glass or wood are outstanding. A good selection can be found at the Romanian Peasant Museum, the Village Museum, most department stores.

Music (Muzica)

Visitors interested in Romanian music can find recordings of pop artists and bands, such as Loredana Groza and Morandi, pan flute artist Gheorghe Zamfir and popular folk singers such as Maria Tanase.

Magazinul Muzica
Address: Calea Victoriei 41- 43, Bucharest
Tel: (021) 313.96.74
Open: Mon. - Fri. 9:30am - 7:00pm; Sat. 9:30am - 2:30pm; Closed Sun.

» Fresh Produce Markets (Piata)

Piata Amzei
Address: Str. Christian Tell 6, Bucharest -(between Calea Victoriei and Blvd. Magheru
near Piata Romana)
Tel: (021) 211.67.26
This is the city's most centrally located outdoor market. Small stores surrounding the outdoor market carry meats, medicinal plants and flowers.

Piata Dorobantilor
Address: Blvd. Radu Beller 3-5, Bucharest
Tel: (021) 231.92.99
Upscale neighborhood market with a selection of fresh produce and flowers

Piata 1 Mai
Address: Blvd. Ion Mihalache 123, Bucharest
Tel: (021) 317.14.63

Resembling an Oriental bazaar, this is the place to find everything from fresh cheese and eggs, fruits and vegetables, to flowers and household items.

Piata Obor
Address: Campul Mosilor 5, Bucharest
Tel: (021) 252.69.54
Bucharest's biggest outdoor market; here, you can find here a food market and a mini-bazaar.


Accommodations
For a list of available accommodations in Bucharest please check the Bucharest Hotel List or our Accommodations guide.

Studio & suite - short term - rental in Bucharest:
www.bucharest-apartments.ro

Tourist Info

Bucharest is safe and hospitable. Violent crime against visitors is almost non-existent. As in any large city visitors are advised to take usual safety precautions. Do not draw unnecessary attention to your person, money or jewelry and be aware of pickpockets and scam artists. Never accept taxi/ car rides, tours or guide services from strangers, no matter how presentable or fluent in English, who approach you on the street.

» Weather

Bucharest has a four-season climate. In the spring, the weather can quickly alternate between rain and sunshine. June, July and August are the hottest months. As the leaves begin to change color, you can still enjoy warm and sunny days while taking a stroll in the city's many parks or down Calea Victoriei. Winters can be quite cold with moderate snowfall.

Average temperatures (Fahrenheit)
Month
Average
January
22-34°F
February
26-39°F
March
32-50°F
April
42-64°F
May
50-73°F
June
57-80°F
July
60-83°F
August
70-90°F
September
52-76°F
October
42-64°F
November
34-50°F
December
27-38°F
Bucharest Weather Forecast
www.weather.com/outlook/travel/vacationplanner/weather/tenday/ROXX0003
» Postal Services & Telephone
Post offices display a postal horn symbol and the word
Posta
.
Main Post & Telephone Office
Address: Str. Matei Millo 10 (off Calea Victoriei)
Open: Mon. - Fri. 7:30am - 8:00pm; Sat. 8:00am - 2:00pm; Closed Sun.
Telephoning Bucharest from Abroad
International Access Code +40 (country code) + 021 or 031 (area code) + telephone number (seven digit number)
» Pharmacies & Hospitals
Pharmacies in the capital are well stocked and pharmacists may be able to suggest a medication for certain complaints. There are several pharmacies
(farmacie)
open 24 hours a day in the city.
Emergency Clinic Hospital
(Spitalul de Urgenta Floreasca)
Address: Calea Floreasca 8, Bucharest
Tel: (021) 317.01.71 or 317.01.21
Bucharest - Useful Telephone Numbers
Bucharest Area Code (Prefix Bucuresti)
021 or 031
Ambulance (Ambulanta)
112,961 or 973
Police (Politia)
112, 955 or (021) 311.20.21
Fire Department (Pompierii)
112, 981
Local Archives (Arhivele locale)
(021) 313.92.95
City Hall (Primaria)
(021) 305.55.00
Better Business Bureau
980 or (021) 250.54.47
International calls (Convorbiri internationale)
971